The Viewing Room
Part I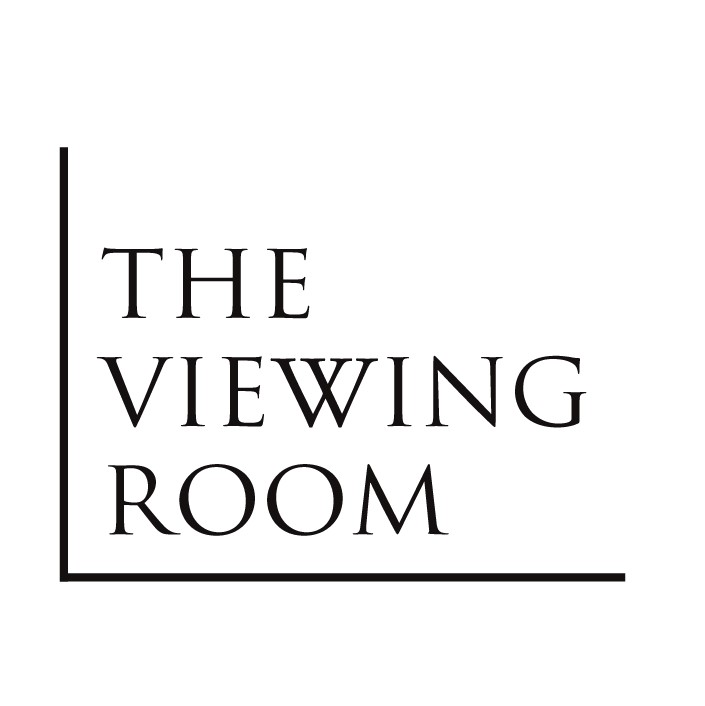 Welcome to The Viewing Room, our online platform presenting a curated selection of artworks from our represented artists, and others currently available in the gallery.
The Viewing Room offers an opportunity for us to share with you a broad offering of contemporary Greek and Cypriot art and to further your study of the artists presented and view their latest artworks.
All the artworks presented are available in the gallery for a private viewing via appointment or a virtual meeting via Viber, WhatsApp or Zoom. Alternatively, arrangements can be made to deliver any artwork to your premises for personal viewing.
Comprehensive protective measures will be enforced to ensure everyone's safety. They include maintaining safe distances, provision of disposable gloves and masks, and the availability of hand sanitizer. When visiting your premises, our dedicated team of art transport specialists will always wear protective masks and gloves when in your premises. And as an additional precaution, artworks and wrapping materials will be sanitized with disinfectant before leaving our gallery.
---
Zenon Jepras was born in 1969 in Cardiff, Wales. He studied painting at the Glasgow School of Art in Scotland from where he graduated with Honors.
A genuine figurative artist, Jepras' work focuses strongly on the tradition of narrative painting and telling stories through the using the language of painting – colour, texture, emotion and symbolism. Mythology and history blend with current social and political trends to produce powerful and vivid images that create a narrative for the viewer to decode and unravel.
He presented his work in many solo and group exhibitions in Cyprus, Greece, the UK, Portugal, and Germany. His work is in the permanent collections of the Cypriot State Collection of Contemporary Art, the Central Bank of Cyprus Collection, the Bank of Cyprus Collection, the Nikos Pattichis Collection, the Luciano Benetton Collection and in numerous private collections in Cyprus, Greece, the US and the UK. He is the 1993 winner of the "Liquitex International Painting Prize", awarded by the American Art Council, New York.
He lives and works in London.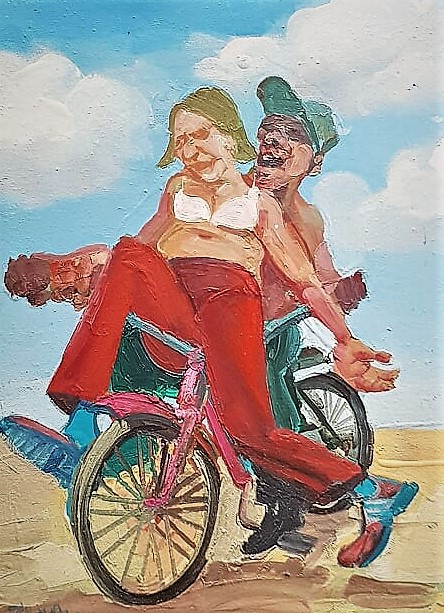 Maria Filopoulou was born in Athens in 1964. She studied painting at the École Nationale Supérieure des Beaux-Arts in Paris and completed her postgraduate studies at the same school under a scholarship from the French government.
With Maria Filopoulou's paintings viewers can feel the cool water caressing their skin, the warm sun embracing their body, the vitality of the air, the pleasure of diving into the deep and the eroticism people feel in the water. Breath-taking turquoise blues and greens intertwine, seep and crystalize on her broad canvases. People immersed in the well-being, the relaxation, the union with nature. There is no time, only place.
She presented her work in twenty solo exhibitions and participated in many group shows in galleries in Athens, London, Paris, New York, Berlin, Istanbul, Venice, Melbourne, Miami, and Beijing. Her works are in the permanent collections of the Greek National Gallery of Art, the Greek Parliament, the Bank of Greece, the Goulandris Museum, the Kouvoutsakis Art Institute, the Frissiras Museum, the Sotiris Felios Collection, the Anthony and Asia Hadjioannou Collection, and many other public and private collections in Greece and internationally.
She lives and works in Athens.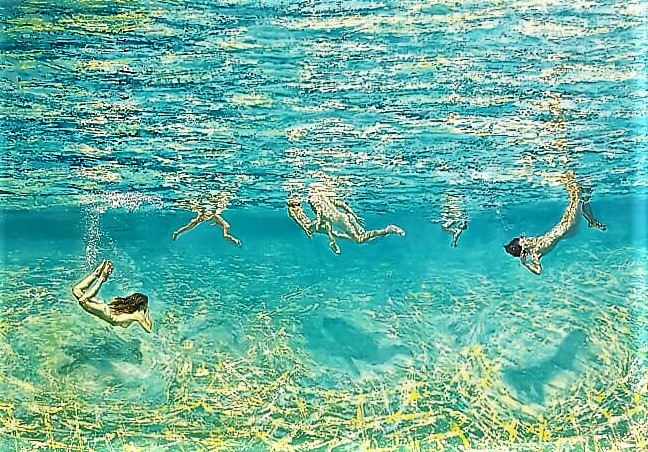 Elysia Athanatos was born in 1981 in England. She studied Fine Arts at the London Institute of Art and Design and Applied Arts at the Middlesex University in London. She continued her studies in sculpture at the Accademia di Belle Arti in Florence, Italy. Following her studies in Florence, followed an artist residency program in porcelain studies at the Sanbao Ceramic Art Institue in Jingdezhen, China, and ceramics specialization program at the Instituto Statale d'Arte per la Ceramica in Faenze, Italy.
Her sculptures comprise large, small, sometimes enormous vases made in stoneware or porcelain, masterfully crafted and visually unforgettable. While their outer color may be black, white, brown, or gold, on the inside they are entirely glazed with gold, platinum luster or oxides. The artworks depart from conventional conformity, fashion, or codified language. She creates tight-bellied pots, which rise, are shaken by the wind, pushed by the breath of material, mental and spiritual energies, and are highlighted by smooth reflections of the world that watches as whirls, furrows, explainable cavities, craters, and chasms open up.
She presented her work in numerous solo and group shows in Cyprus, Italy, and China. Her work is on the Cyprus State Collection of Contemporary Art.
She lives and works in Bologna.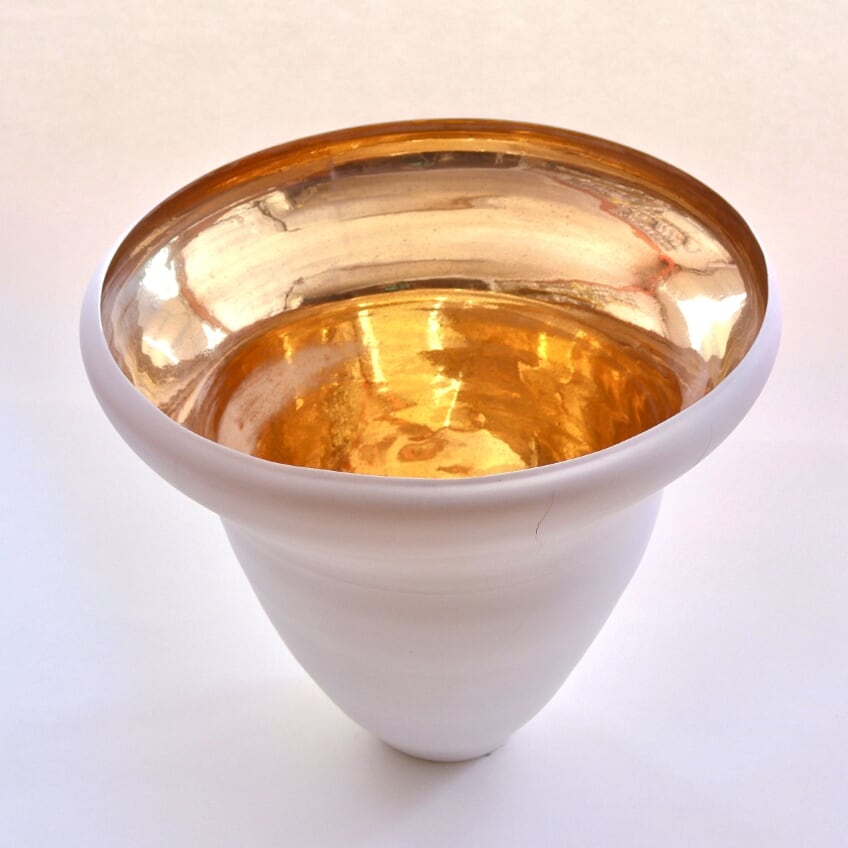 Thanasis Lalas was born in Athens in 1958. He studied Economics at the Aristotle University in Thessaloniki.
He is an accomplished journalist and author. He worked as director and editor of the largest newspaper in Greece by circulation "To Vima tis Kyriakis", he created the inserts "To Allo Vima", "Vima Donna" and "VIMAgazino" as well as the bestseller magazine for young people "FREE" and the free press.
A self-taught artist, Thanasis Lalas has a "holistic" approach to life and an innate ability to create a work of from everything he engages with, and this is what characterises him because he is an artist that is not limited to a single art form. He began by drawing notebooks of daily notes and appointments, art diaries and, at the same time, he began to draw on restaurant tablecloths and on everyday objects creating his own unique and artistic world, the world of Thanasis Lalas.
Over the past fifteen years, he has devoted himself to painting and sculpture. During this period, he has presented his work in numerous solo exhibitions. in Athens, Thessaloniki, Nicosia, Paris, New York and Miami, as well as in many group exhibitions and art fairs, including the Miami Scope Art Fair and Art Basel Miami.
He lives and works in Athens.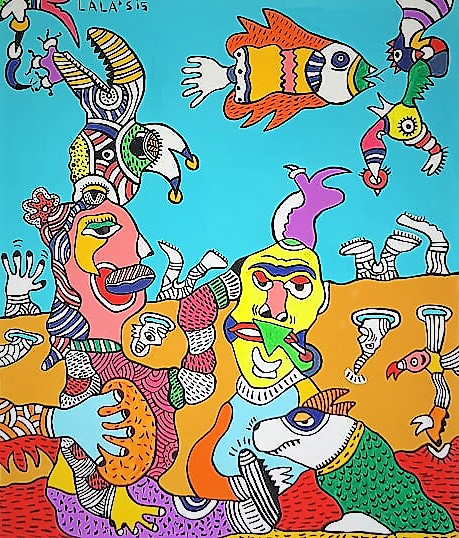 Nikolas Antoniou was born in Larnaca, Cyprus, in 1988. He graduated in 2012 from the University of Western Macedonia, Greece, Department of Fine and Applied Arts.
His paintings do not stem from a specific idea or theme. He consciously avoids focusing on specific questions or a particular answer and instead, creates new pictures, which generate unknown questions. Thus without great thought, paints vague spaces, objects which appear to be misplaced, both through time and dimension, next to items disjoint, with figures lost in an intense painterly environment, but in the end coexist and interact, giving meaning to their existence, tell a story and express a sentiment.
He presented his work in numerous solo and group shows in numerous solo and group shows in Cyprus, Greece, Hungary, Romania, Germany, Italy, and Australia. He earned a residency at the Budapest Art Factory – International Artist Residency Program (managed by BAF)
He lives and works in Larnaca.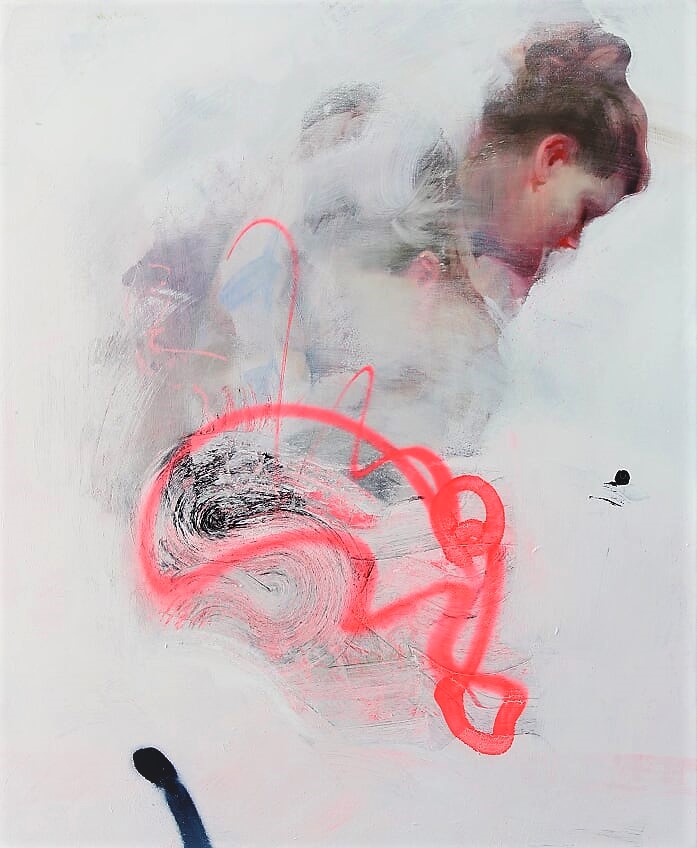 Chryssa Verghi was born in born in Athens n 1959. She studied painting at the Academy of Fine Arts in Athens under Dimitris Mytaras, and Nikos Kessanlis. She continued her studies in Interior Design at the Fine Arts School of California State University of Long Beach, USA, and continued her studies in Painting at the Ecole Nationale Superieure des Beaux-Arts de Paris, France.
Her paintings are essentially landscapes that edge towards abstraction, with an broad palette range and dynamic brush strokes spread throughout the canvas. Yet there are moments when these same works seem quite specific, like fields with sown or wild plants viewed from very close up. This oscillation between the two creative trends serves as a guide for most of her oeuvre and becomes the source of attractive visual renderings in which her aesthetic preoccupations culminate in artistic acts.
Her works are in the collections of the Greek Parliament, the Greek National Gallery, the 'Megaro Maximou (the Prime Minister's office), the Benaki Museum, the Florina Museum of Modern Art, the Kouvoutsakis Gallery, the Moschandreou Gallery, the Frissiras Museum, the Agricultural Bank of Greece Collection, the AGET Heraklis Group of Companies Collection, the Interamerican Collection, and other private museums and collections in Greece and abroad.
She lives and works in Athens.
Dimitrios Ikonomou was born in 1989, in Baltimore, Maryland, USA. He studied Art History and Creative Writing at Brown University in the United States and continued his studies in Industrial Design at the Umeå Institute of Design in Sweden. Following the completion of his studies, he worked as a commissioned sculptor for Piet Hein Eek Studio in Eindhoven, Holland, working on assigned projects within Eek's workshop.
His is characterized by their clean lines, flat, broad surfaces, and minimalism. His artwork aims to simplify a concept to its bare minimum, and through this to present the viewer with a bare view of the basic image.
Among other projects, Ikonomou has created designs for the Nicosia Tourism Board, the Bank of Cyprus, the Cyprus Museum of Archaeology, and the Cyprus Handicraft Services. He is co-producer of the VR documentary The Green Line, which premiered at the 71st Cannes Film Festival. The Green Line has subsequently been officially selected for over 20 film festivals, winning "Best VR Film" four times.
He has presented his work in three solo exhibitions and a number of group shows. His sculptures are in several public collections including The Luciano Benetton Collection, Treviso, the Anassa Hotel, Paphos, the Amara Hotel, Limassol, the Wargaming Global Headquarters, Nicosia, and the Hartmann Shipping Global Headquarters, Limassol.
He lives and works in Nicosia.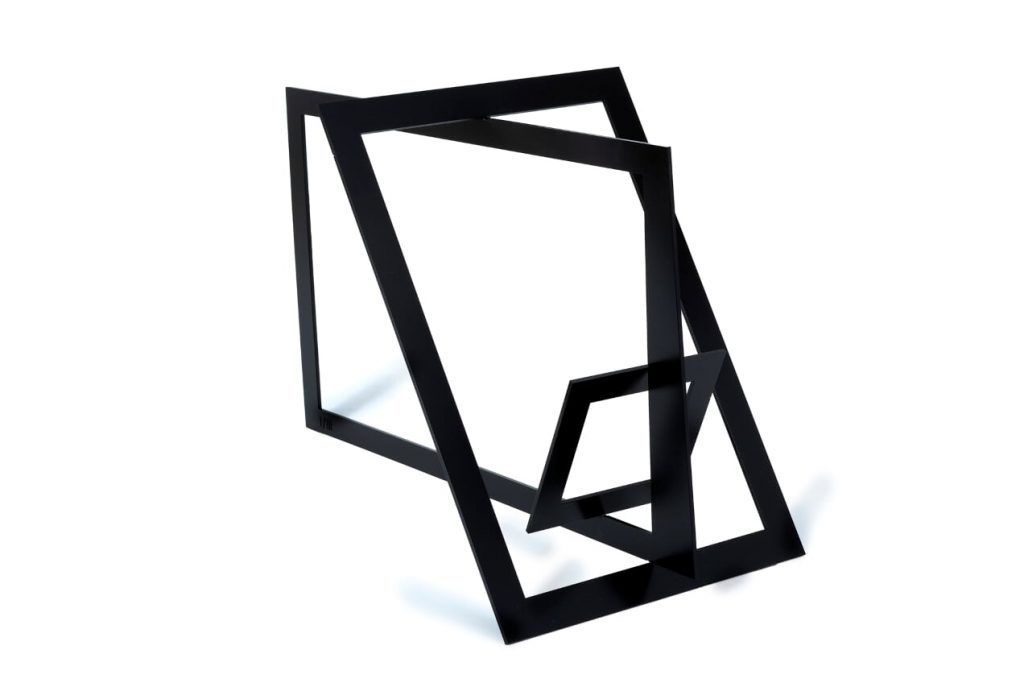 Sophia Kalogeropoulou, is a leading Greek artist of the naïve art genre. Highly respected and well established, her immediacy, authenticity and natural expression have made her well known to a wide global audience.
She expresses herself through imaginative and surrealistic themes borrowed from mythologies, history, fairy-tales and music. She interprets these in contemporary settings and with modern-day characters and through her compositions, colours and underlying messages shares with the viewer an optimistic narrative and a joyful aesthetic. ​
She was born in Athens, Greece, in 1946 and is a graduate of the American College of Greece (Pierce College). She has studied Law and Political-Economic Sciences at the University of Athens. She studied music at the Athens Conservatory and at the Studio of the Vienna State Opera in Austria. She appeared as a soloist in the Vienna State Opera (1976-77).
As with many naïve artists, she is self-taught. She exhibited her work in many solo show and numerous group exhibitions, biennales and international art fairs specializing in naïve art, in Greece, Italy, Japan, Germany, Sweden, Spain, Switzerland, Israel, and Canada. Her works are in the public collections of the National Gallery of Art, Athens, Greece, the Greek Ministry of Tourism, the Kitchener-Waterloo Art Gallery, Ontario, Canada, the Joey and Toby Tanenbaum International Naïve Art Collection, Toronto, Canada and many private collections.
She lives and works in Athens.
Ignatios Mitrofanous was born in Nicosia in 1981. He studied under a scholarship at the Academy of Fine Arts in Athens.
His work deals with the realities of the universe and existentialism. In much the same way scientists experiment, his approach to art is also experimental, seeking to represent the unseen world and ascribe meaning to it. An ongoing exploration of what is perceived by the senses and what can be known.
He has presented his work in solo and group exhibitions in Nicosia, Athens, New York, and London.
He lives and works in Nicosia.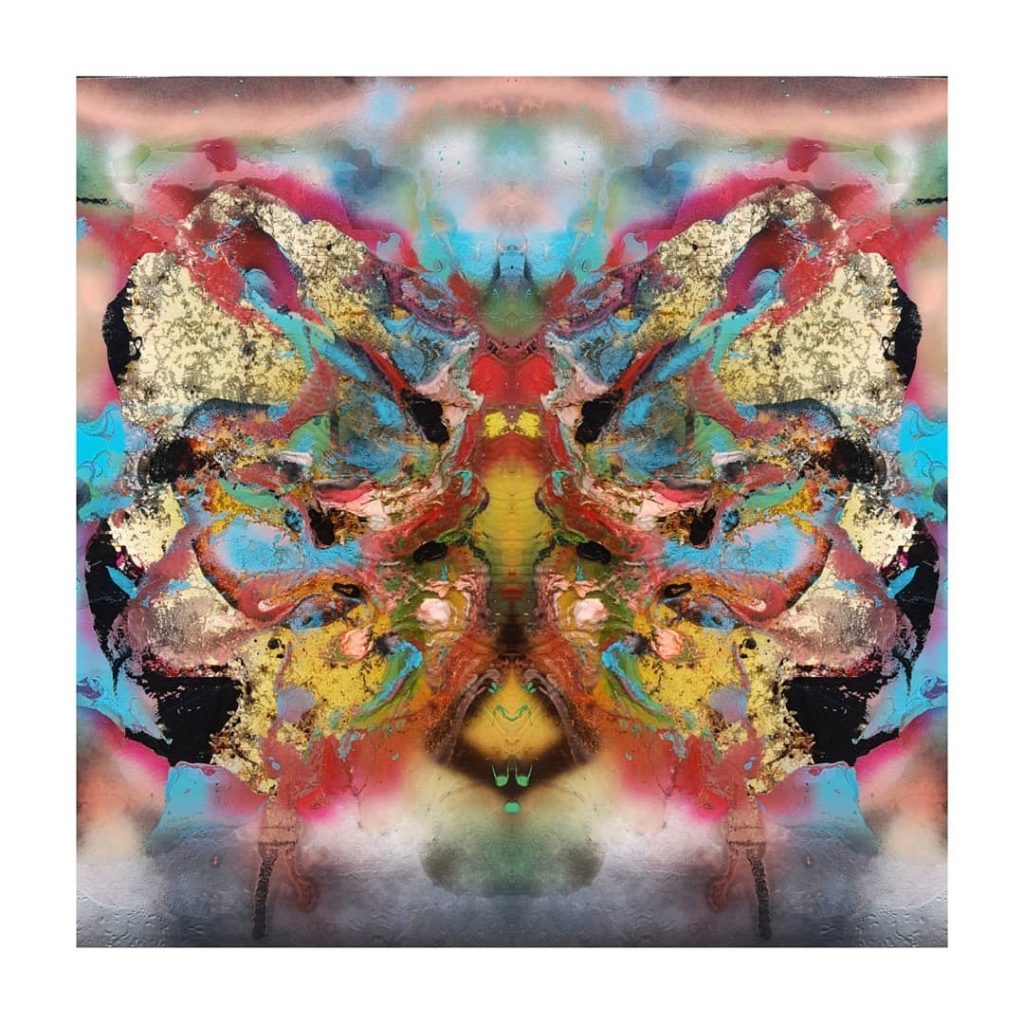 Constantinos Stefanou was born in Nicosia in 1966. He studied at the Cyprus Pedagogical Institute of the University of Cyprus and at the University of Ioannina. He continued his studies in Art and Design at the London Guildhall University.
He paints directly on wood using traditional techniques creating fantastical settings with everyday characters. In his paintings the artist depicts adults that look more like children, with small bodies and large heads and eyes, emphasizing in this way what is most interesting in the human form. His characters relive their past desires, environments, surroundings, and become children again.
He presented his work in many solo and group exhibitions. In 1988 he represented Cyprus at the 7th Cairo Biennale. His artworks are in various public and private collections.
He lives and works in Nicosia.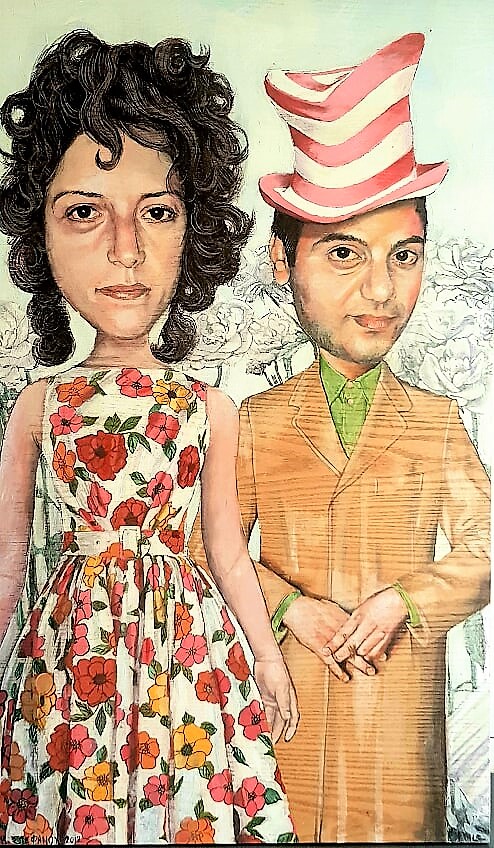 ---