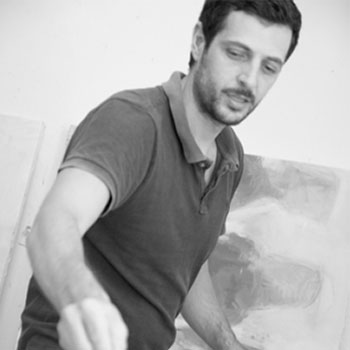 Juliano Kaglis
Juliano Kaglis was born in Athens in 1974.  He studied painting and engraving with professors Patraskidis, Gavathas and Milios, at the Academy of Fine Arts in Athens.  During his studies, he received a Fine Arts Scholarship by the Greek State Scholarship Foundation to produce artistic work.
In 2005, he was a candidate for the Frissiras Museum's "Contemporary European Painting Award".
In 2013, he was honored with the Distinguished Greek Painter Award for artists up to 40 years old offered by the by the Academy of Athens.
Solo Exhibitions
2017
Ekfrasi-Gianna Grammatopoulou, Athens
2016
Alpha C.K. Art Gallery, Nicosia
2015
Ekfrasi-Gianna Grammatopoulou, Athens
2012
C.K. Art Gallery, Nicosia
2011
Ekfrasi-Gianna Grammatopoulou, Athens
2010
Espilon Art Gallery, Thessaloniki
2009
C.K. Art Gallery, Nicosia, Cyprus
2008
Ekfrasi-Gianna Grammatopoulou, Athens
2006
C.K. Art Gallery, Nicosia
2004
Ekfrasi-Gianna Grammatopoulou, Athens
Group Exhibitions (selection)
2016
Art-Athina International Contemporary Art Fair (presented by Alpha C.K. Art Gallery)
2014
Zoumboulakis Galleries, "Ηis Subterranean Island: 18 artist on Dionisis Savvopoulos", Athens
2013
Goulandris Natural History Muesum, "Hippocratic Medicine", Athens
2010
Vafopouleio Cultural Center, "Contemporary Greek Painting-The New Generation", Thessaloniki Thessaloniki Cultural Center, "Deconstructing the Canvas, Inventing the Image: Works from the Antonis and Azia Chatziioannou Collection
2007
Municipal Gallery of Chania, "Aspects of the Figure, Semantics of the Landscpape" Benaki Museum, "Birthplace", Athens
2006
Melina Merkouri Exhibition Hall, "2nd Biennale of New Artists", Hydra
2005
Modern Art Gallery of Christos and Sofia Moschandreou, "Landscapes of Mesologgi", Mesologgi. Frissiras Museum, "2nd Contemporary European Painting Award", Athens
Exhibitions with Alpha C.K Art Gallery