Christos Pallantzas was born in Larissa, Greece, in 1962.
He studied at the Athens School of Fine Arts in Greece from 1982-1989.  His studied painting under professors Dimitris Mytaras, Nikos Kessanlis and Dimosthenis Kokkinidis.
From  1990-92 he continued his post graduate studies under a scholarship he was awarded  by the French Government at the Ecolé Nationale Superieure des Beaux Arts de Paris, at the atelier de la peinture of Pierre Carron.
His works can be found in the Greek National Gallery, the Benaki Museum, the Florina Museum, the Kouvoutsakis Art Collection, the Frissiras Museum, the Agricultural Bank of Greece Collection, the Heracles Group of Companies Collection, and other private museums and collections in Greece and abroad. In addition, his work was selected as representative of Greek Contemporary Art during the Olympic Games of 2004.
Solo Exhibitions
2014
Nicosia – Alpha C.K. Art Gallery
2014
Athens – "Art-Athina International Art Exhibition", Alpha C.K. Art Gallery
2009
Nicosia – C.K. Art Gallery
2005
Nicosia – C.K. Art Gallery
2004
Athens – "Art-Athina International Art Exhibition", Argo Gallery
2004
Athens – Skoufa Gallery
2000
Athens – Ekfrasi Gallery
1999
Athens – Skoufa Gallery
1996
Athens – "Art-Athina International Art Exhibition", Skoufa Gallery
1996
Megara – Heracles Group of Companies Calendar
1996
Athens – Heracles Group of Companies Calendar
1993
Athens – Skoufa Gallery
1991
Paris – Gallery Bernanos
Group Exhibitions (selection)
2014
Iecce (Italy) – "Desiderata, A 100 Gallery (curator Lorenzo Madaro)
2014
Seoul – International Korean Art Fair
2013
Athens – "Offer", National Archaelogical Museum, (curator M. Stephanidis)
2013
Athens – "The Deceipt of the Flesh", Frissiras Museum
2012
Athens – "'Face to Face", Frissiras Museum, (curator Th. Moutsopoulos)
2011
Thessaloniki – "Man Matters", Atrion Gallery (curator Iris Kritikou)
2011
Athens – "Six Views", (curator Iris Kritikou)
2010
Instabul – "Tracing Constantinople" (curator Iris Kritikou)
2010
Sifnos – "New acquisitions", National Gallery
2010
Athens – "Synsthesis-Synesthisis'', Skoufa Gallery
2010
Athens – "Human Measures'', Mercouri Foundation (curator Iris Kritikou)
2009
Hydra – Historical Archives Museum, (curator Phivi Paraskeva)
2007
Athens – "Birthplace", Benaki Museum (curator Iris kritikou)
2006
Athens – "Penelope Delta", Athens College (curator Iris Kritikou)
2005
Athens – "Masks", Peri Technon Gallery (curator Iris Kritikou)
2004
Nicosia – C.K. Art Gallery
2004
Athens – "City of the Games", Technopolis (curator Athena Schina)
2003
Athens – Cultural Olympics (curator Peggy Kounenaki)
2003
Athens – Cultural Center of Athens City Hall
2003
Athens – "Art Relations", Skoufa Gallery
2003
Nicosia – Ledra House
2002
Athens – "Red", Skoufa Gallery
2000
Thessaloniki – Epsilon Gallery
2000
Athens – "Personal Relations", Ekfrasi Gallery
1998
Athens – "12 artists are painting for the "SANTE", Zoumboulakis Gallery
1998
Brussels – West Europe Union (curator Athena Schina)
1997
Larissa – Cultural Center of Modern Art
1997
Nicosia – Argo Gallery
1997
Thessaloniki – Cultural Capital of Europe, City Hall Art Gallery.
1996
Nicosia – Argo Gallery
1996
Volos – "HERCULES Group of Companies Collection"
1995
Athens – "Homage to El Greco", National Gallery
1993
Piraeus – "Young Greek Artists", Astrolavos Gallery
1993
Nicosia – "The Dutch Association of Cyprus (NVC)"
1992
Rhodes – "Vlassis Frissiras Collection", Pinacotheque Rhodes City Hall
1991
Paris – "Artistes du Monde", Gallery Bernanos
1991
Athens – "Vlassis Frissiras Collection", Pierides Museum
1989
Athens – "Fine Arts School Graduates", National Institute of Research
1989
Athens – "3rd International Meeting for the Protection of Environment"
1989
Athens – "Athens – Plastique Arts 1989"
Exhibitions with Alpha C.K Art Gallery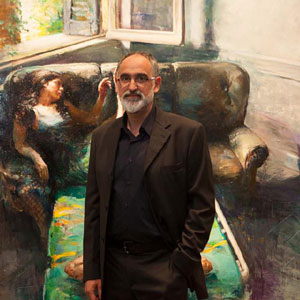 view exhibition catalogue