The Viewing Room
Part II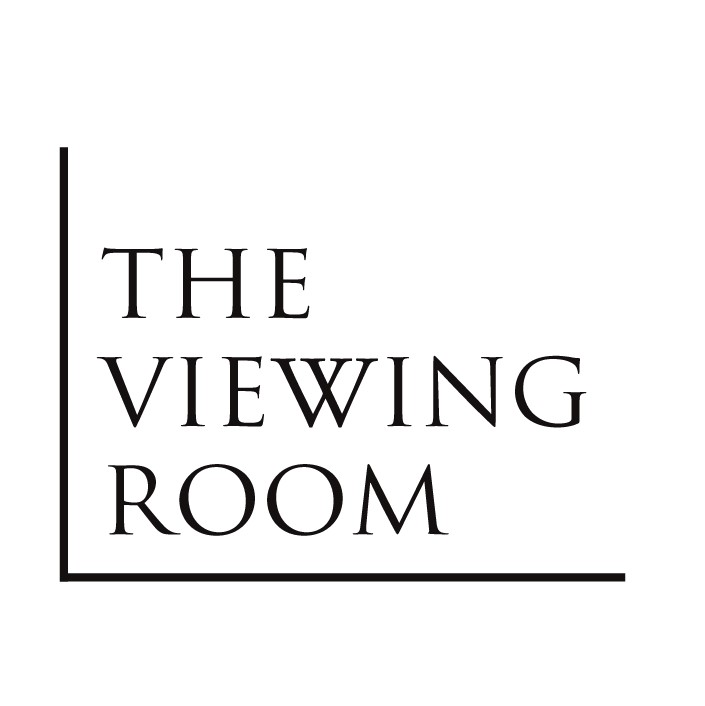 Welcome to our latest edition of The Viewing Room, our online platform presenting a curated selection of artworks from our represented artists, and others currently available in the gallery.
The Viewing Room offers an opportunity for us to share with you a broad offering of contemporary Greek and Cypriot art and to further your study of the artists presented and view their latest artworks.
Call us to arrange a private viewing in our gallery space or a virtual meeting via Viber, WhatsApp or Zoom. Alternatively, arrangements can be made to deliver any artwork to your premises for personal viewing.
---
Yorgos Papadopoulos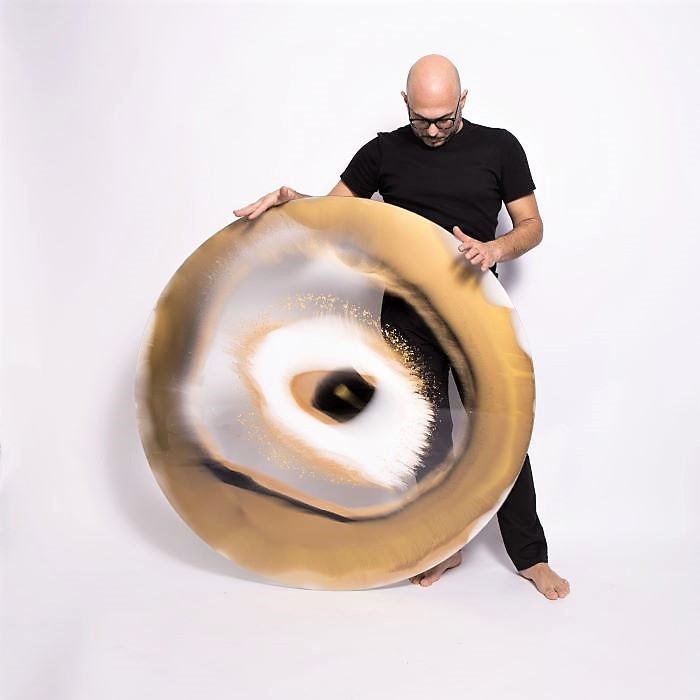 He was born in Cyprus in 1969. He studied Art & Design and Interior Design at the Middlesex Polytechnic in London and continued his studies earning an M.A. in Ceramics & Glass from the Royal College of Art in London.
Unlike any other glass artist, Yorgos does not treat his material with caution but rather with violence. He smashes, drops or shoots the glass. The ensuing shambles ever a sign of the imperfections of life. The aesthete ever wishing to turn it back into beauty. His is a constant exploration of materials, transparency and reflections combined with the philosophical considerations of unconventionality. The treatment of glass and exploring the physical properties of light, space and the relationship of environment with the transparent qualities that glass offers as a material reflection and shadow through the material, have always been compelling elements in his practice.
He has exhibited his work in numerous solo and group exhibitions in the UK, the USA, Cyprus, Australia, France, Italy, Mexico, Spain, and Turkey. His work is in public and private collections in the UK, the USA, Cyprus, France, Germany, Italy, South Africa, and Switzerland,
He is author of the book titled 'Lamination' published in 2004 by A&C Black and has lectured and given master classes at various institutions of higher education, including the Pilchuck School of Glass founded by Dale Chihuly.
He shares his time between the city of London and the village of Kedares in the Troodos mountains.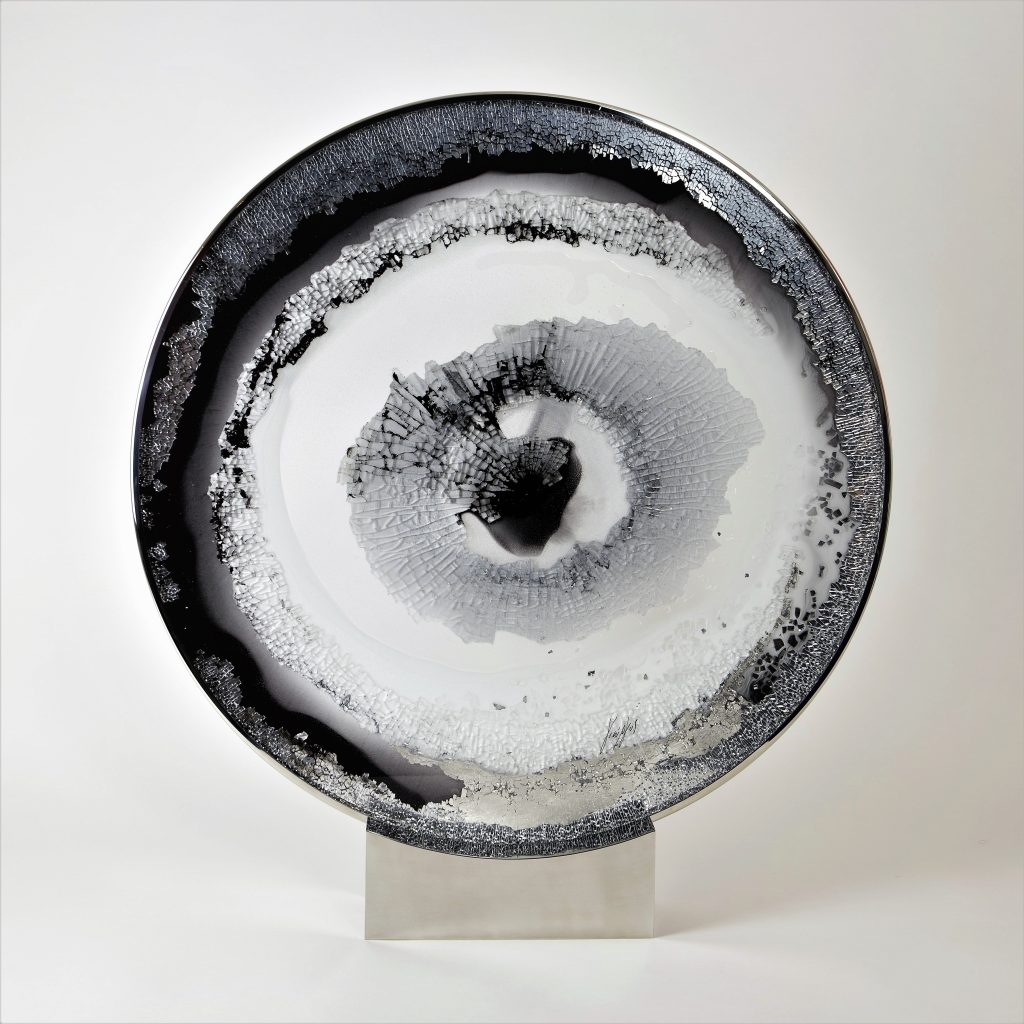 Michalis Manousakis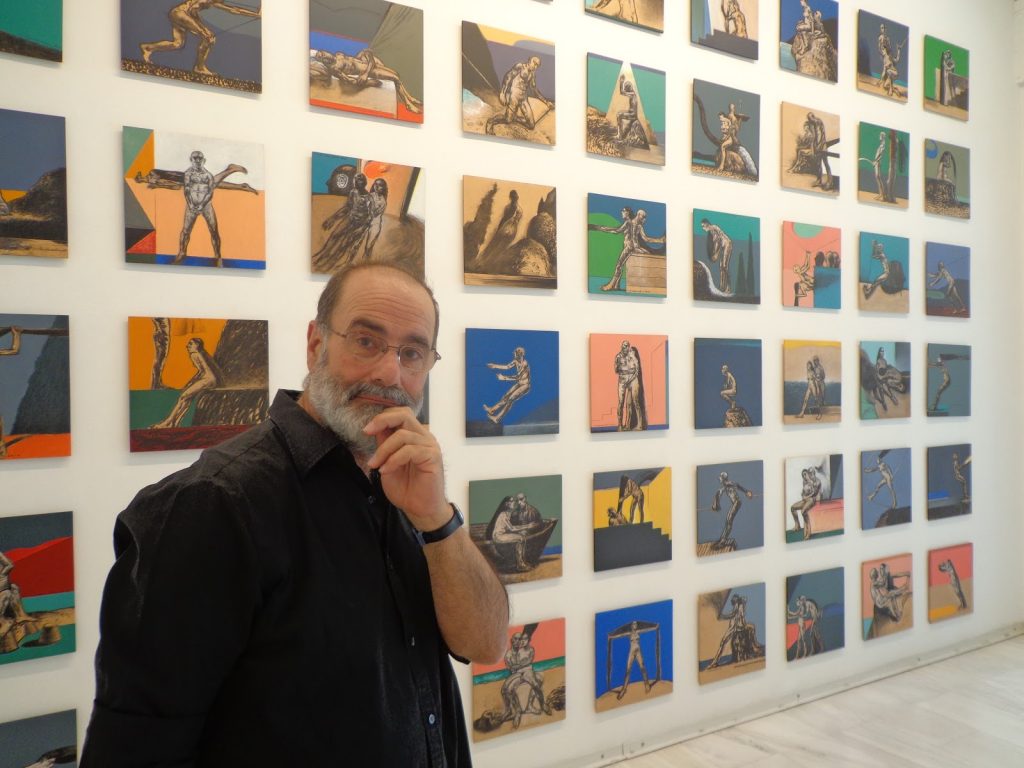 He was born in Chania, Crete in 1953. He studied at the Academy of Fine Arts in Athens under Demosthenes Kokkinidis and Dimitris Mytaras. He teaches painting at the Academy of Fine Arts. In Athens since 1987.
The largest part of his oeuvre is anthropocentric. His interest lies with simplified figures and their relation to their surroundings. The themes that run through his work refers to personal memories, gender relations and childhood which he depicts with distictive sensitivity. He uses spot colors with strong contrasts that attribute an expressionist style in his representations. Later in his work, his compositions are becoming more sparing; space is rendered as almost bare and monochromatic, while the human body is gradually stripped of its individual characteristics, acquiring a primordial dimension.
He presented his work in many solo exhibitions and has participated in numerous group ones in Greece and abroad. In 1994, he participated in the Alexandria Biennale, where the Greek participation won the Best National Pavilion Award. In 2012, he presented the exhibition One Meter at the National Museum of Contemporary Art.
He lives and works in Athens.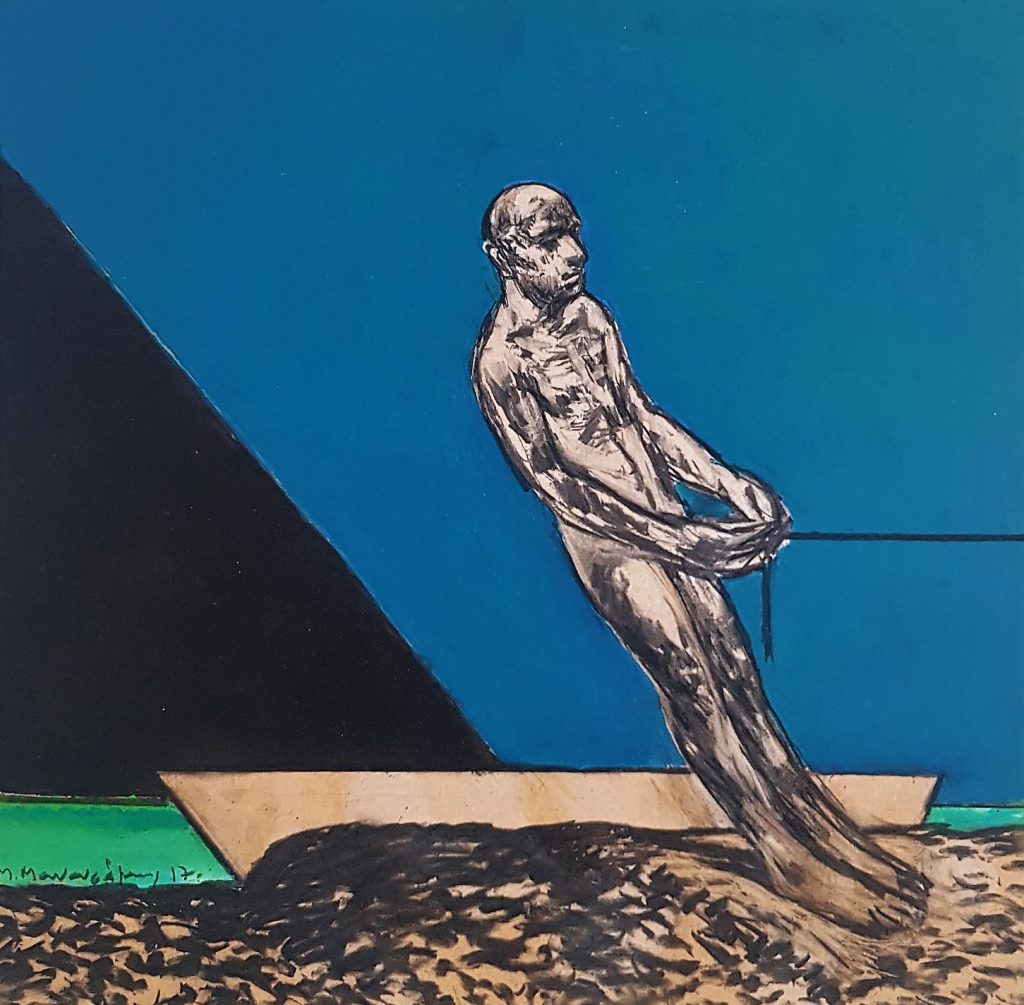 Giorgos Achilleos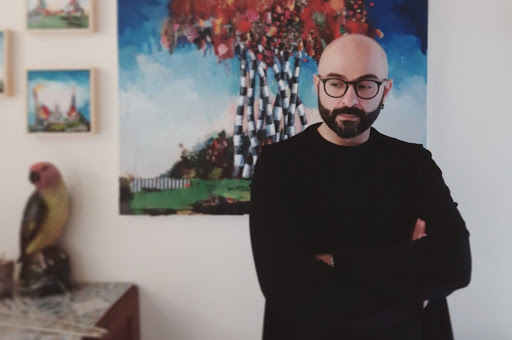 He was born in 1979 in Larnaca. He studied painting and theoretical studies in the History of Art and Architecture and in the psychology of education at the Department of Visual and Applied Arts of the Aristotle University of Thessaloniki, from where he graduated with Honors, with professors Makis Theofylakatopoulos and Kyriakos Katzourakis.
In his work, the artist uses a rich and extensive colour palette, enhanced by a delicate inclusion of collage elements, to create, deep, rich colorful environments, busting with joy and optimism. With an obvious disposition to express things not as they are but as they could be possible, the artist transforms the canvas into a journey where the plausible becomes visible.
He presented his work in solo exhibitions and has many participations in group exhibitions in Greece and Cyprus. His works are in the collection of the Ministry of Education and Culture of Cyprus and in private collections in Cyprus and abroad.
He lives and works in Larnaca.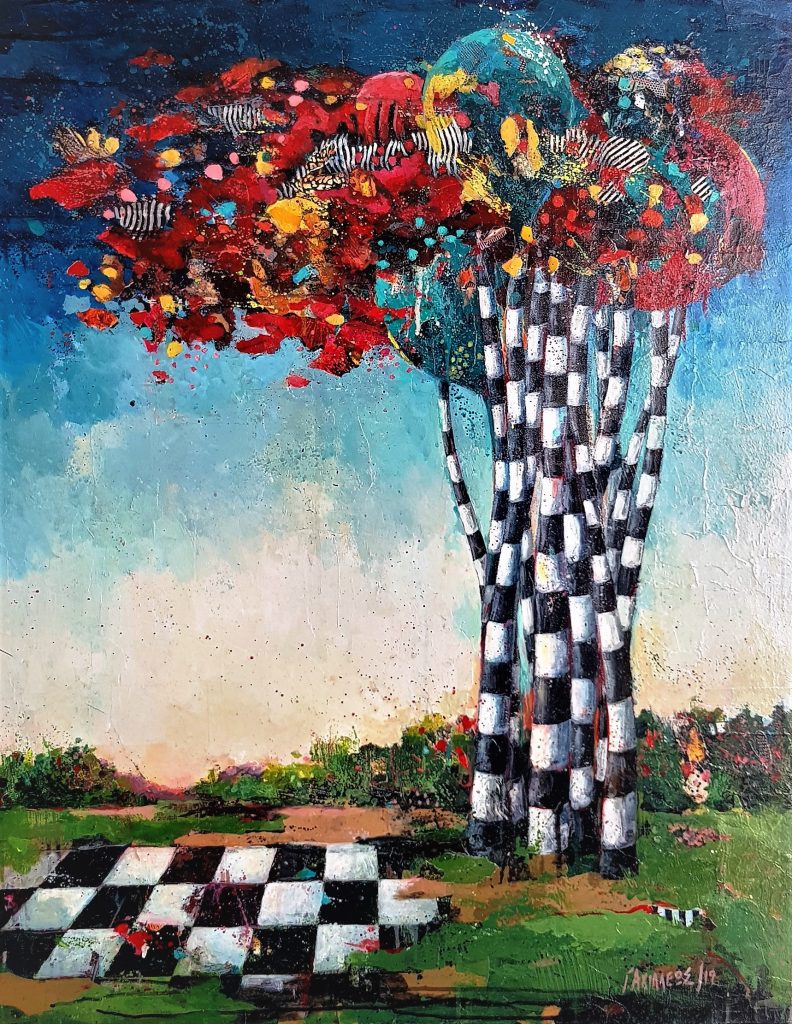 Christos Pallantzas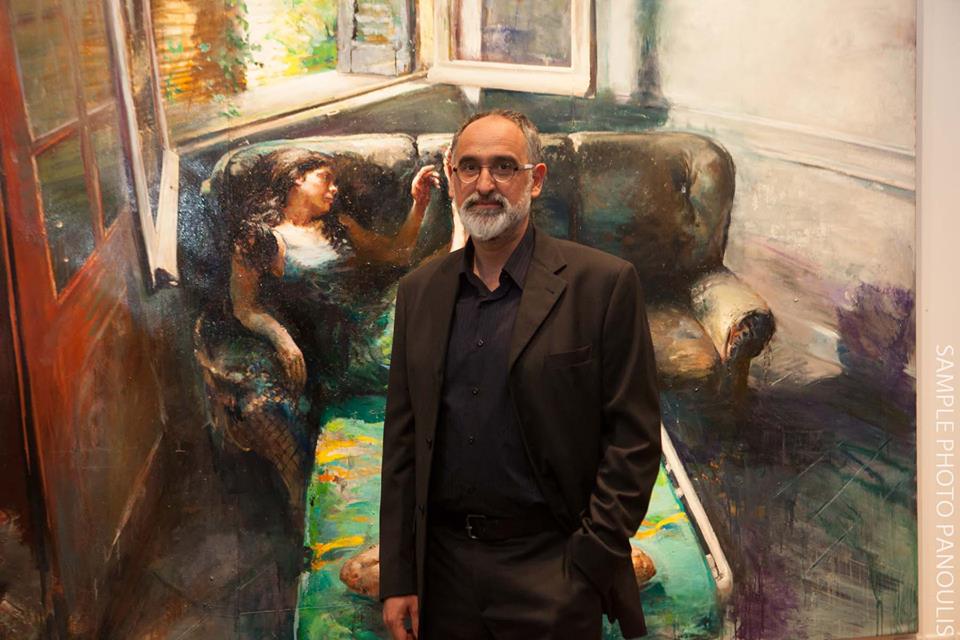 He was born in Larissa in 1962. He studied painting at Academy of Fine Arts in Athens under professors Dimitris Mytaras, Nikos Kessanlis and Dimosthenis Kokkinidis. He continued his post graduate studies under a scholarship he was awarded by the French Government at the Ecolé Nationale Superieure des Beaux Arts de Paris.
His art is is characterized by the predominant use of the blue spectrum and earthly shades. It is a personal, internal art that edges viewers to get in touch with ourselves, to explore our essential needs, our primordial existence, the importance of human relationships and of the spiritual self. They are meditative works that bring peace of mind; prisms that have captured what we have lost, offering it back to us, via expressive brushstrokes and seductive colour harmonies.
He has presented his work in many solo and group exhibitions in Greece, Cyprus, France, Italy and the UK. His works can be found in the Greek National Gallery, the Benaki Museum, the Florina Museum, the Kouvoutsakis Art Collection, the Frissiras Museum, the Agricultural Bank of Greece Collection, the Heracles Group of Companies Collection, and other private museums and collections in Greece and abroad. In addition, his work was selected as representative of Greek Contemporary Art during the Olympic Games of 2004.
He lives and works in Athens.
Costas Varotsos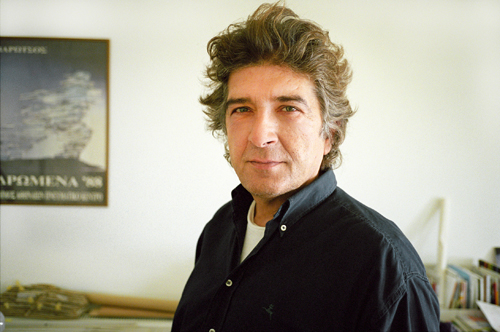 He was born in Athens in 1955. He studied painting at the Accademia di Belle Arti in Rome and continued his studies in architecture at the Arte Scuola di Architettura at the University of Pescara in Italy.
From early on his work crosses the boundaries between painting and sculpture, and demonstrates his interest in transparent materials and in the relationship between the art and the environment. He began to exhibit regularly in leading galleries in Italy and Greece and over his thirty-year career exhibited his work in many solo and group exhibitions throughout the world.
In 1983, with the encouragement and support of mega-collector Dakis Ioannou, Varotsos creates his first monumental public sculpture "Poet". The 6-meter high glass plate sculpture is placed at the historic relic Famagusta Gate cultural centre in Nicosia. His renowned 8-meter high sculpture "The Runner" is a landmark of central Athens. Over his career, Varotsos created and installed sculptures for private collections and public spaces and museums in Italy, Greece, Cyprus, Germany, France, Belgium, Switzerland, Spain, China, Japan, Egypt, Brazil, the USA, and the UK.
His seemingly magical ability to transform glass, iron, stones and wood into monumental works that testify to the artist's struggle with the fragility his materials, transparency and light, to create a linear elegance and dynamic form with a minimalism and refinement that is a testament to his mastery of his art form.
Varotsos has received numerous awards for his sculptures and his overall work. He received the best sculpture prize by "The Year in Review 2004" for the work Contiguous Currents in Palm Beach, Florida, USA, the 2005 Street Trend Award for the work Untitled in Bützberg, Switzerland, an award for best artwork in public space in 2014 by SRF3 for his 140 meter sculpture Tension-Energy in Lucerne, Switzerland. He received the Segno D'Oro award in Italy for his overall contribution to sculpture, the Cavaliere dell'Ordine della Stella Solidarietà Italiana by the President of the Italian Republic and the Medal of Commander of the Order of Merit by the President of the Greek Republic.
He is a member of the Academie Engelberg since 2000, and since 1999 a professor at the Aristole University of Thessaloniki at the School of Architecture.
He lives and works in Aegina.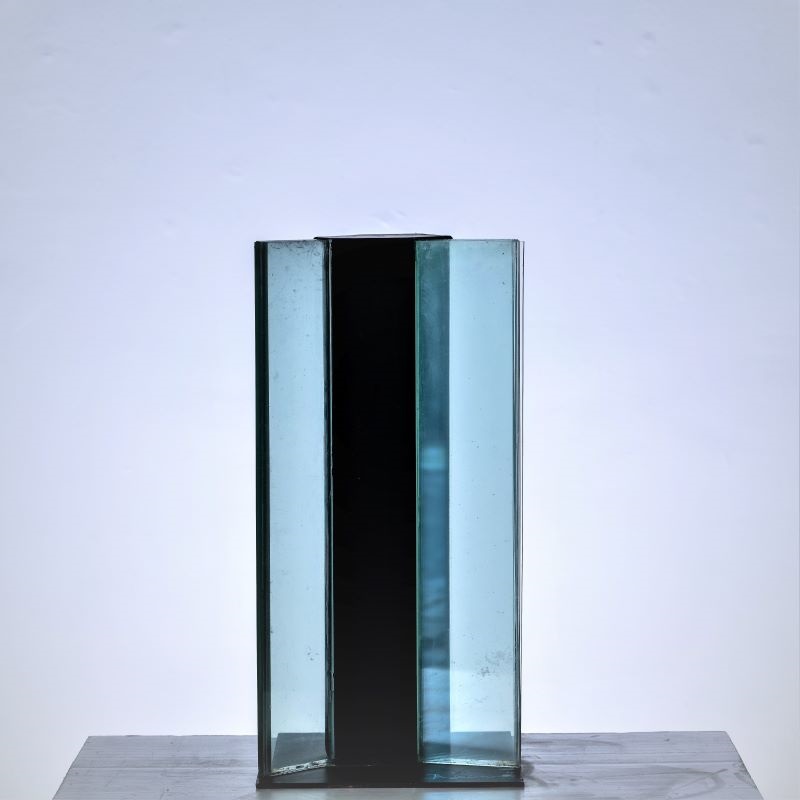 Marina Olympios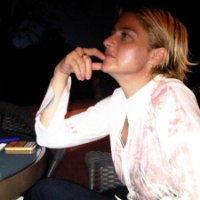 She was born in 1968. She studied in Paris where she graduated from the Ecole Nationale Superieure des Beaux – Arts of Paris with a diploma in Sculpture -multimedia (avec les felicitations du Jury). In 1994 she received a grant for research and worked at the Institute des Hautes Etudes en Arts Plastigues in Paris.
In 1995 she received the price for research in Visual Arts of the French Ministry of Culture FIACRE. In 1996 she worked in the International studio – Curator Programme in New York financed by the A.F.A.A French Ministry of foreign Affairs.
She presented 14 solo exhibitions: in the Museum of Contemporary Art CAPC in Bordeaux, in the Museum of Modern Art GEO Charles, Echirolles, In the Gallery Renos Xippas in Paris and in the Gallery Lehmann – Maupin in New York.
Her works are in the following collections: Dakis Joannou collection Athens, the Daskalopoulos Collection Los Angeles, Pierre Nouvion Monaco and Marzio Carver Monaco, Ministry of Education & Culture, Central Bank Cyprus, Hellenic Bank Cyprus, Laiki Bank Cyprus, Municipality of Larnaka, Electricity Authority of Cyprus.
She lives and works in Nicosia.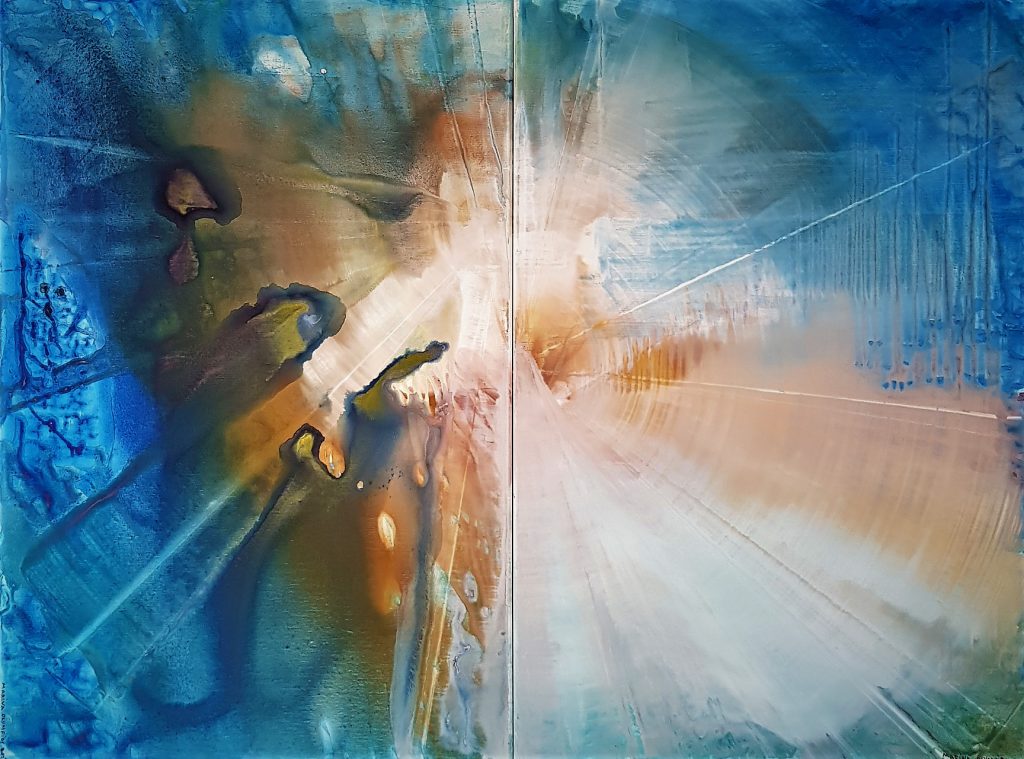 Juliano Kaglis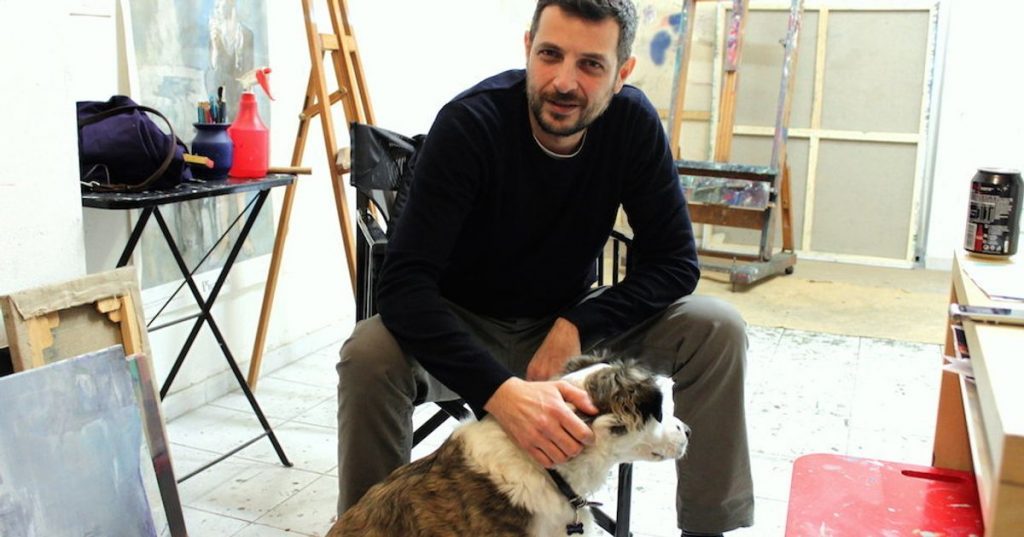 He was born in Athens in 1974. He studied painting and engraving with professors Patraskidis, Gavathas and Milios, at the Academy of Fine Arts in Athens. During his studies, he received a Fine Arts Scholarship by the Greek State Scholarship Foundation to produce artistic work.
His painted images balance between the visible and the invisible, between given reality. A charming balance between representation and abstraction, lucidity and improvisation. They move, pulsate, change, and explode; they transform.
He presented his work in numerous solo and group exhibitions in Greece and Cyprus. In 2005, he was a candidate for the Frissiras Museum's "Contemporary European Painting Award". In 2013, he was honored with the Distinguished Greek Painter Award for artists up to 40 years old offered by the by the Academy of Athens. His work in is public and private collections.
He lives and works in Athens.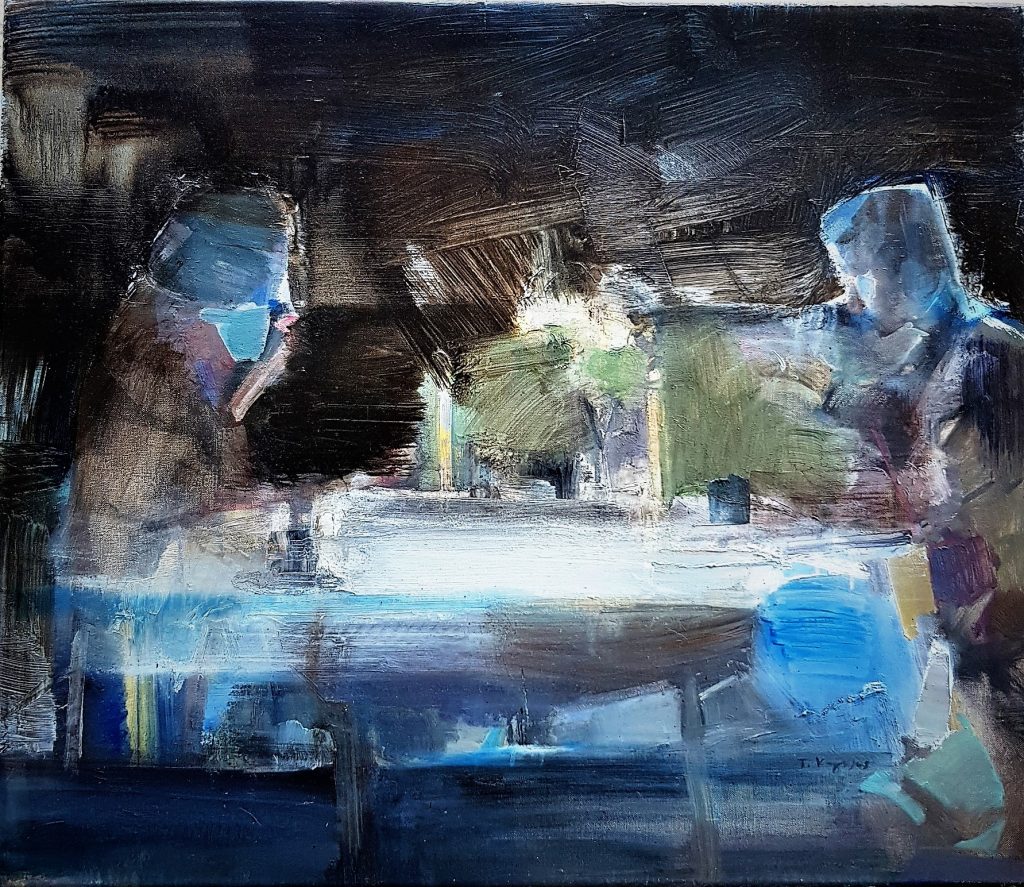 Thekla Papadopoulou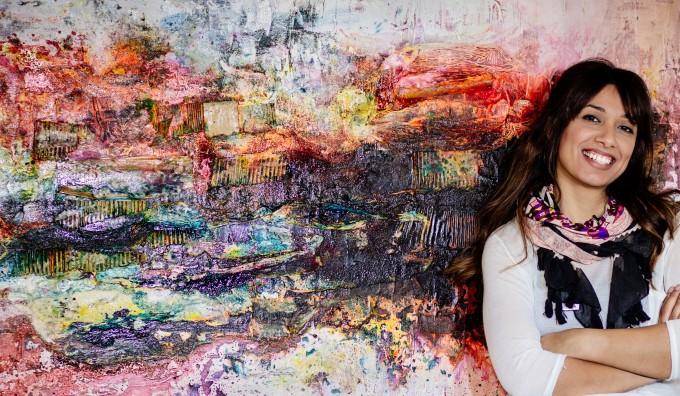 She was born in Limassol in 1978. She graduated from the Academy of Fine Arts "Raffaello" of Urbino, Italy, with distinction.
Her paintings use landscapes as a motif, but this is merely the starting point for highly personal dialogue with the natural world. Her work is characterized by richly textured surfaces which evoke the dynamics of the unfettered motion of the sea and the brooding power and mystery of the landscape. These transitory evocative images are not representational, but instead seek to elicit the sensations, memories and wonder associated with our experiences and encounters with raw nature.
She has exhibited her work in four solo exhibitions and numerous group exhibitions in Cyprus, Greece, Italy, France, Dubai and the USA. Her paintings are in several public and private collections, including the State Collection of Contemporary Art, Nicosia, the Larnaca Municipality Gallery the collection of the Central Bank of Cyprus, and the collection of CNP Insurance, Nicosia.
She lives and works in Larnaca.

Stathis Alexopoulos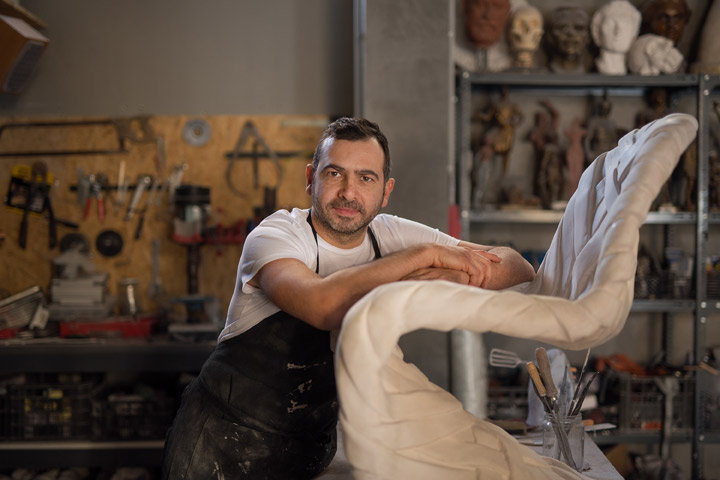 He was born in 1976 in Athens, Greece, where he currently lives and works. He studied sculpture at the School of Fine Arts of Tinos, as well as Visual and Applied Arts at the Fine Art School of Aristotle University of Thessaloniki, where he graduated with distinction. He has participated in many group exhibitions and won numerous awards in Greek and international sculpture symposiums.
His sculpting technique, attempting to link the past with the present bringing together the concepts of time and art, is characterized by "hubs", which are formed by blending belts and stripes, encircled and embraced eternally. His sculptures combine modern aesthetic with the enduring values of classical sculpture since the form has the power to define the artworks meaning and mission. The artist strives to redefine the form and hold it captive through time.
His artworks are in major museum art shops, galleries and private collections. His sculptures are also in public spaces in many large municipalities in Greece and abroad.
He lives and works in Athens.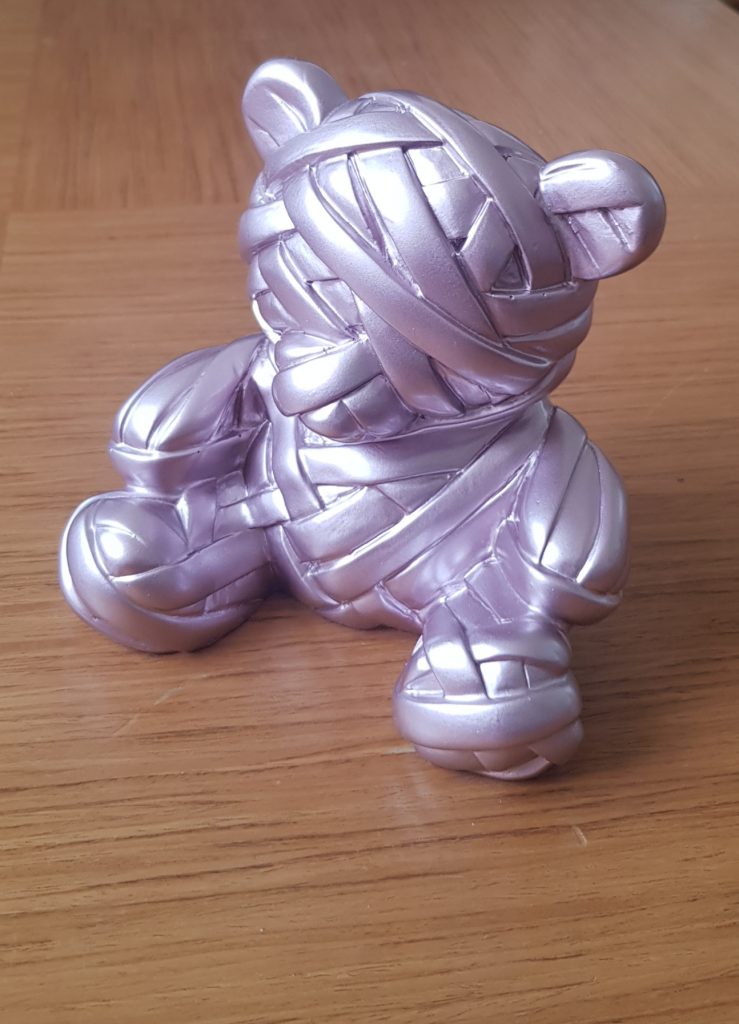 Achilleas Razis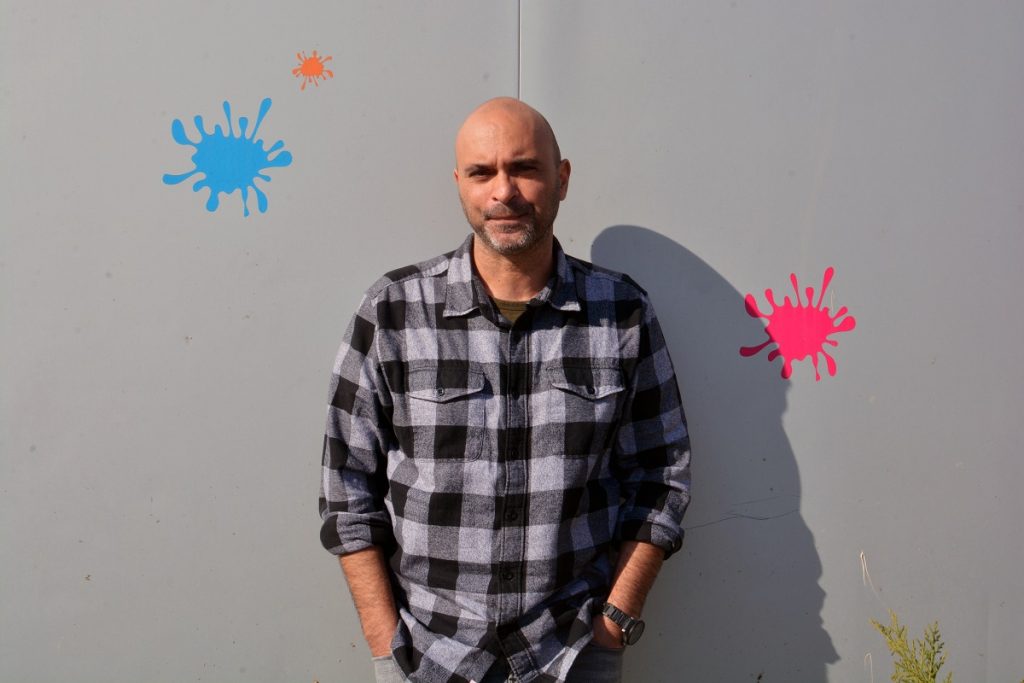 He was born in 1975 in Mytilene. He graduated from the Academy of Fine Arts in Athens where he studied under Chronis Botsoglou.
Razis is a young artist at the forefront of Greek neo-representative art. His strong and clear color palette and well-structured compositions with anonymous protagonists in every-day scenes familiar to each of us. Razis creates on his canvas' stories from moments and takes the viewer on a journey through familiar places and feelings.
He exhibited his work in seven solo exhibitions in Greece and Cyprus and in numerous group exhibitions. He was awarded with Greek State Picturebook Award in 2017 and the Best Illustrated Childrens' Book by "The Reader for his illustration of the book "Melak, All Alone" by Argyro Pipini.
He lives and works in Athens.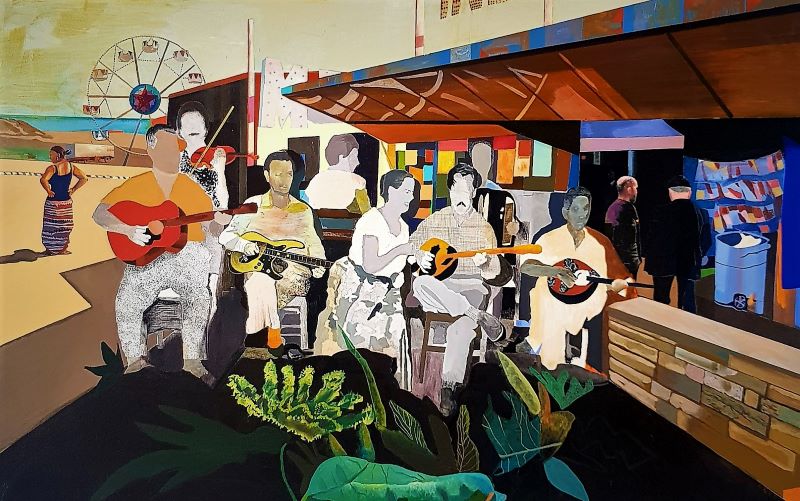 ---
---